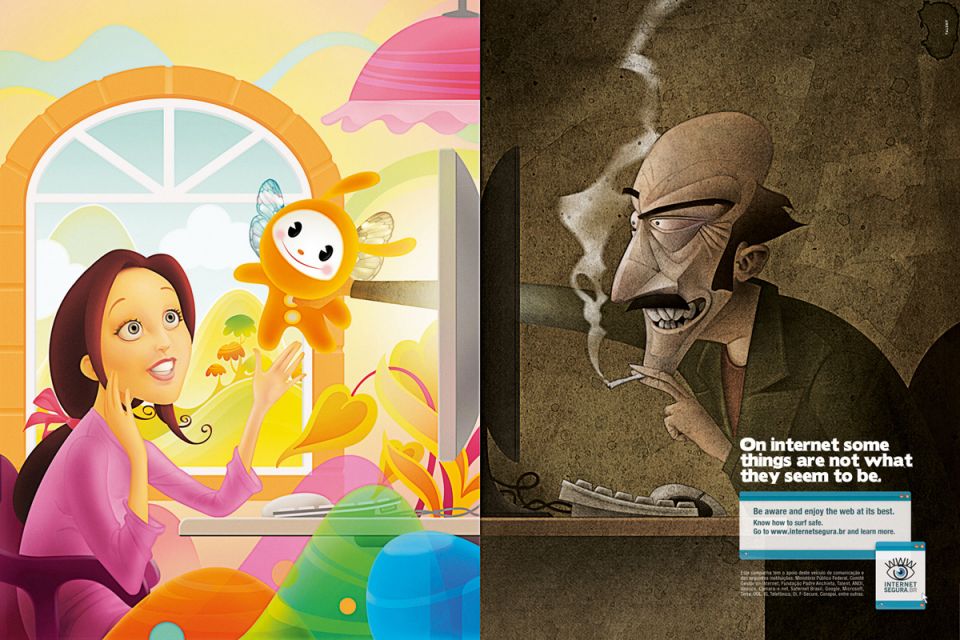 If you are convinced that your children need to be protected from inappropriate web content and are searching for ways to make your computers or mobile devices secure, this post is for you. You may wish to read my earlier post in which I had explained how to filter web content via OpenDNS.
The Best Option
The ideal thing to do is to let your children have access to the Internet when you are available to supervise them. If you are busy or at work, a grandparent or someone else you trust may be able to fill in for you.
Make sure that the computers are installed in a common area where you can have an eye on your children. Restrict their use of mobile devices to a common area of open access.
In any case, you will not be able to supervise children all the time. It is therefore important to secure Internet-enabled devices. These are the few methods I suggest:
Control over device settings, apps, and privileges
Time restrictions
Device Restriction: A desktop computer is far more useful and easier to deal with than a mobile device when it comes to online learning. If you have a choice, go for a desktop PC (plus webcam and headset) with good UPS backup and a large monitor. The larger the monitor, the better! I do not recommend the use of smartphones for children below the age of 18. Our younger children are teenagers. They use a desktop computer and a Kindle e-reader to read e-Books. If you have more than one child engaged in online learning, go for a good desktop/server computer and several thin clients to save on cost. You don't have to buy two or more desktop computers.
Parental Example
All the tips and suggestions in this article will work only if parents and guardians are willing to live by the guidelines they prescribe for their children. Parents must set an example.
1. Internet Filtering Through DNS
There are free and paid Domain Name Servers services that filter Internet content. By changing the DNS server settings on your computer or mobile device, you ensure that all Internet traffic to and from your device pass through those DNS servers. This is an essential step in securing your device. But, this step alone won't help. You need to follow through with the other steps mentioned in this article.
ANDROID PHONES
Option 1: System-wide DNS Setting Latest Android devices have a setting that sets a Private DNS Server address for the whole device. If you have such a setting, please enter either the web address or IP Addresses provided below. You probably need to enter just the DNS Server address or just the IPv4 Address. These are available as a free service from Cleanbrowsing.org. Other DNS servers are available at a price. You are free to choose this or any other service.
Filtering For Families: Blocks access to all adult, pornographic and explicit sites. VPN sites are blocked. A few search engines such as Google, Bing and YouTube are set to Safe Mode. DNS Server: family-filter-dns.cleanbrowsing.org;
IPv4 address: 185.228.168.168 and 185.228.169.168
IPv6 address: 2a0d:2a00:1:: and 2a0d:2a00:2::
Filtering out adult content: This is similar to the Family Filter but does not block VPN sites or sites with mixed content.
DNS Server: adult-filter-dns.cleanbrowsing.org;
IPv4 Address v4: 185.228.168.10, 185.228.169.11
IPv6 Address: 2a0d:2a00:1::1, 2a0d:2a00:2::1
Option 2: DNS Settings for each type of Connection
In older Android phones, there is no way to set a system-wide DNS server. In that case, you will have to set the DNS for each Internet connection such as WiFi and Mobile Data Settings. Click on your WiFi Connection and choose "Modify Settings." Enter the two IPv4 addresses given above (185.228.168.168 and 185.228.169.168) as DNS1 and DNS2. Repeat this step for every WiFi Connection and Mobile Data Connection you have on your device.
For more detailed explanation of how to change DNS server settings on Android Devices, please visit Joy Of Android site.
Desktop Computers
On a desktop computer or laptop,, go to your network settings and change the DNS settings of each of the connections, that is, the WiFi and wired connections. Depending on your operating system, the procedure to change DNS settings might vary. Check out instructions for these common operating systems: Ubuntu | Windows 10 | MacOS
IMPORTANT: The above steps will be useless if you do not secure your phone's or computer's settings. IF your child is able to access the computer's or phone's settings, they can change the DNS server settings.
Mobile Devices: Install AppLock and secure your phone's settings (explained below)
Computers: On your laptop or desktop computers, make sure that only your (parent's or guardian's) user account has administrative privileges. Create ordinary user accounts for your children. User secure passwords.
2. Uninstall Potentially Dangerous Apps
The next thing you need to do is uninstall unnecessary applications from your device. If your children need a mobile device for online learning. why install apps that will distract them from this main task?
Uninstall apps such as Xender that enable file and app transfers between phones/devices.
Uninstall torrent clients such as BitTorrent that help users to download files (movies, porn, music, etc.) from the Internet
Uninstall all social media apps. Children below the age of 13 are not permitted to use these apps. In Europe, no one who is 16 or below are permitted to use social media apps. Even if you child is above 13 (or 16), supervised access to these apps is recommended. A lot of nefarious activities happen in Whatsapp or If your child's school sends messages and assignments over Whatsapp, insists that they send such material via email or Google Classroom or online learning platforms such as Moodle.
Uninstall VPN apps that allow users to switch their countries in order to access blocked sites.
Uninstall TOR browser. This browser enables users to access sites in the deep, dark web.
Uninstall potentially dangerous file explorers that offer services such as WiFi Server, FTP server, etc. (ES File Explorer, X-plore)
Uninstall FileZilla or similar FTP and/or WiFi server apps.
3. Install Essential Apps
Make sure that you install all apps essential for online learning: Zoom, Google Classroom, Moodle, etc., as per the guidelines of your child's school.
Install AppLock by "Apps Clean"
Now that your device is free from potentially dangerous apps, it is time to take control over the device's settings. In order to do so, install an app called "AppLock." There are several apps that go by that name. Check user reviews. You may wish to install AppLock released by "Apps Clean." This app has good reviews. If you find a better one, use it.
During installation, choose a strong password for the app. Do not use a pattern lock. Children can easily trace the pattern you draw on the screen long after you unlock or lock AppLock. Change the phone's settings (as guided by the app) so that the app cannot be uninstalled easily.
In Applock, find out how you can lock various apps. You need to lock the following apps and services:
Lock Phone "Settings"This will prevent users from:

Changing WiFi or Data Settings
Changing Proxy Settings
enabling Developer Settings, USB Debugging
installing dangerous or objectionable programs
installing and removing of apps

Lock Play Store App:

This is to prevent installation and removal of apps from the Play Store

Lock Access to certain apps (Allow Access Only When Closely Supervised)

Internet Browser: Chrome, Firefox, Android Native Browser app. Older children might need to use a browser in order to visit web sites and also to test out web pages they create. Let them access a browser on a desktop.
Social Media Apps: Facebook, Twitter, Instagram, SnapChat, Tumblr, Reddit, Pinterest, etc. Children old enough to use these social media sites must access these sites under your supervision, preferably on a desktop computer.
Camera App: A lot of children get into trouble by taking their own inappropriate photos and videos. Disable this app. Remember that Whatsapp, SnapChat, Twitter, Facebook, etc., have their own built-in camera apps.
Media Player apps such as MX Player, VLC, Kodi, etc., can be locked. There is no way to disable a memory card slot. If your child gets hold of objectionable video content, they should not be able to play it. If they must watch a video, let them watch it under your supervision preferably on a desktop computer.
4. Time Restrictions
All computers and mobile devices in your home must make use of time restrictions.
On desktop computers, use the parental control features and set the time periods during which children are allowed to login.
In the case of mobile devices, ensure that all mobile devices are collected from children before bedtime.
5. The Proxy Server Approach
Highly recommended: If you have a cable or fibre Internet connection at home and if you have a desktop computer and several mobile devices or laptops, you might wish to filter web content using a dedicated proxy server. A dedicated server is a good idea but you can use your existing desktop computer as a proxy server. All laptops, computers and mobile devices will connect to the Internet through this proxy server which has both Squid Proxy and SquidGuard. Therefore, the proxy server must run 24×7. (If you wish to use a dedicated Proxy Server, you can use a low power processor and hardware configuration to save power.)
These two applications will filter out more than a million objectionable sites and content. It takes a little bit of technical work to set these up. If you are unable to do it yourself, hire the services of an IT professional. SquidGuard has various kinds of filters as shown in the screenshot below.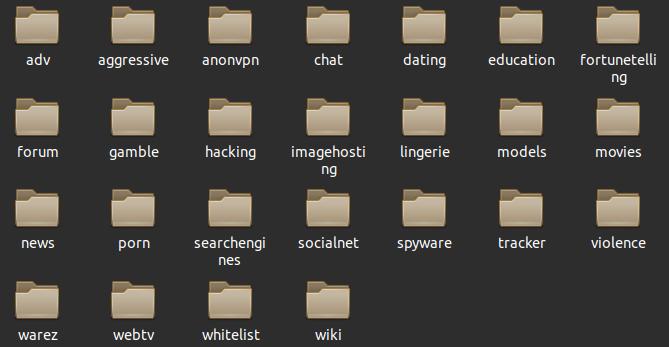 After setting up Squid Proxy and SquidGuard, make sure that you lock the preferences and settings of your web browser. Users must not be allowed to change DNS settings. If users enable DNS over HTTPS, all your efforts at filtering web content will be wasted.
Learn how to Filter Web Content Using Squid Proxy and SquidGuard.
6. General Tips
It is advisable to lock access to USB ports if children have access to USB pen drives from outside sources.
Web or image searches in Google or other search engines – even when set to safe mode – yield highly objectionable content. Do not be fooled by "safe mode." There is nothing safe about these search engines. Allow children to use web browsers and search engines only under your supervision. Go to the settings of your browser (preferably Mozilla Firefox) and disable search engines Google, Bing, Yahoo, Metacrawler, etc. Instead, use DuckDuckGo or a similar search engine. Then, remember to lock the preferences and settings.
The free encyclopedia Wikipedia is not child-friendly. It has hundreds of images that even adults cannot watch. Consider blocking Wikipedia site. Do not install their app on any device used by your children. Encourage children to use the online version of Encyclopedia Britannica
A lot of objectionable material is hosted on blog sites such as Tumblr and WordPress. Do not allow children to use these sites without close supervision.
My set up
Desktop and Laptop
Operating System: Ubuntu Linux
Web content filtering: Squid proxy with SquidGuard (customised to our requirements)
Secondary web content filtering: via OpenDNS (with certain sites permanently blocked)
Mozilla Firefox: Preferences locked
Mobile Phone
Private DNS Setting: Adult Filter DNS from CleanBrowsing.org
No smartphones for children under 18 years.